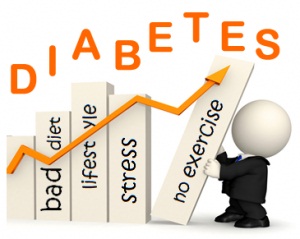 Introduction
As per the common believes and observation, one will never find take a person to be a diabetic or having blood sugar who is chubby and fat. As per the common notion of the people, one always thinks that the person having diabetes is a thin one, about to collapse and looks very skinny and thin.
So, what's this that a person is having diabetes and is not thin at all. Rather, he is a person who is showing the opposite symptoms of diabetes, obesity.
It's the time to get your concepts revised and have a look at some types of diabetes.
The classification of Diabetes
Scientifically,there are two types of Diabetes
Diabetes Mellitus Type I
Diabetes Mellitus Type II
Let's have a brief look on the following types of Diabetes.
Diabetes Mellitus
Diabetes mellitus or commonly known as Blood Sugar is the most common type of disease which people know by it's name. Diabetes mellitus means increase in blood sugar levels or blood glucose levels which are characterised by increase urination, thirst and hunger.
These three symptoms are used to characterise Diabetes mellitus. Diabetes is basically characterised by increased blood sugar levels for a long period of time, which when left untreated can turn into various complications.
Diabetes mellitus is characterised into two types:
Type I diabetes
This type I diabetes is a result of pancreas being unable to secrete the required amount of insulin in the body because of failure of beta cells of islets of Langerhans, which are responsible for the production of insulin.
This disease is characterised by frequent urination, increased thirst, increased hunger, and weight loss, blurry vision, feeling tired, and poor healing. Symptoms typically develop over a short period of time.
2. Type II diabetes
This type II diabetes is a result of body becoming insulin resistant and unable to respond to the insulin secretions being released by the pancreas.
The disease is characterised by increased thirst, frequent urination, and unexplained weight loss. Symptoms may also include increased hunger, feeling tired, and sores that do not heal. Often symptoms come on slowly.
What's so special about Sindhurmani Madhumeha Nivaran Puja?
Sindhurmani is a rare masterpiece of Lord's creation. It is said to possess rare yet astonishing healing properties. By mere touch of this miraculous stone, one is able to feel the powers of this stone.
Be it any type of diabetes, Type I or Type II, Sindhurmani has got the power as well as the prowess to treat any of the type whatsoever.
Through our special research about the healing mantras and relieving Swasti Vachan, our expert pandits and highly qualified Jyotish Acharyas create an atmosphere whereby one is relieved from the pangs of suffering.
For booking your puja, contact us at http://www.shubhpuja.com/product/sindhurmani-madhumeh-nivaran-puja/
Please note that this is a holistic solution and your existing medical treatment and medicines should continue.
*Terms & conditions:  Offer valid till 31st Dec 2016. Other terms & conditions will be sent after booking the puja.
Disclaimer:  Shubhpuja makes no representations / warranties of any kind expressed or implied with respect to occurrence of any event and predictions.  The company may, in its sole discretion, change, modify, suspend, make improvements to or discontinue any aspect/service without prior notice. Please note that Shubhpuja does not take responsibility for any work undertaken by the Acharya/astrologer/pandits and their opinions / predictions and Shubhpuja or the Company disclaims their responsibility to the fullest extent as per the applicable laws. All predictions are based on study and observations of the astrologer and their independent opinion. Shubhpuja holds the right to not take any particular order from the customer due to any external/internal circumstances known to Shubhpuja.