How a small pearl Sindhurmani can cure the biggest of all problems in just 21 days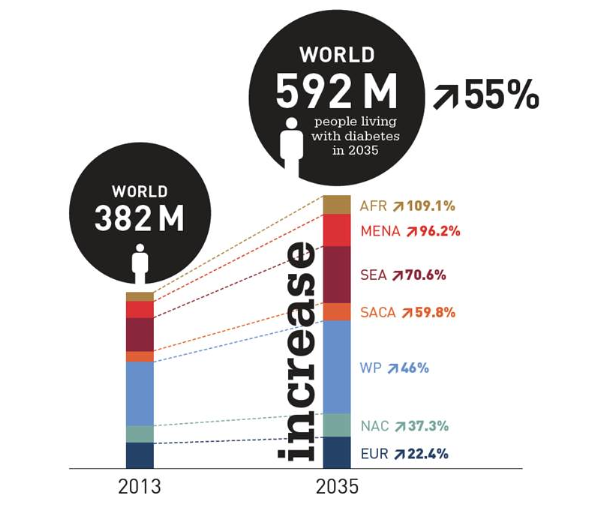 Gravity of the disease Diabetes
It is completely a known fact that we can ourselves verify. Every third person in this world has diabetes (Madhumeha) or is in pre-diabetic stage. Every old person we come across, there are more that 85% chances that he or she shall be having diabetes. When it is such an epidemic which is spreading so quickly, the wise person must try to find out the cure and try to relieve his/her near and dear ones from the acute pangs of pain. It is almost intolerable for any wise individual to see his kith and kin resorting to daily dose of injections of insulin.
As per WHO's report for 2014, we hereby see the fact that the number of diabetics among adults over 18 years of age has risen from 4.7% in 1980 to 8.5%. The situation has risen to more than alarming level.
Curing therapies available in the market and their practical effectiveness
Since every diseases has a medicine for the same in the medicinal system, Diabetes mellitus still suffers for the lack of proper and effective medicine which can cure the patient's plight.
When we compare the systems of Ayurveda, Homeopathy and Allopathy for the treatment of deadly disease, we come across the point that
Allopathy does have a faster cure but there are other associated side effects like loss of appetite, loss of vision, numbness in the legs, increased body heat,  hyperacidity etc.
Ayurveda has got complete solution for diabetes but the problem lies with practicality of the process. Since it takes a long time to cure, patients are unable to maintain their patience.
So, overall there is a lack of a completely practical and result oriented medicinal therapy which can cure it.
Sindhurmani: The hope of the masses
Sindhurmani is a ati durlabha ratna or maharatna.  It is found in the depths of  auspicious Lakes and oceans.
Since it is representative of Lord Ganesha's soul, it is able to fulfill any desire of the individual who worships it with devotion. Sindhurmani is a rare creation and is available to  few persons who have reached siddhi in their sadhana. Be it any trouble or disease, there is nothing which this Sindhurmani cannot do.
How Sindhurmani works?
Sindhurmani is a celestial gem. It works when it is activated by special mantras and suktas which are to be carefully selected and recited by expert chanters. When the chosen and researched mantras are chanted upon this mani by our highly experienced acharyas and pandits, this mani radiates a spiritual vibration which has medicinal healing properties.
When this aura is administered in the patient, the patient feels that he is being cured from inside. Sindhurmani works on the imbalance of mind, heart and other organs. When it is disturbed, it correct the same through the medicinal vibrations.
Many of our patients have seen miraculous benefits of Sindhurmani, sometimes even instant benefits for the same. The customer reviews have been the cause of our painstaking mission to relieve the people from various problems.
For booking your puja, contact us at http://www.shubhpuja.com/product/sindhurmani-madhumeh-nivaran-puja/
Please note that this is a holistic solution and your existing medical treatment and medicines should continue.
Disclaimer:  Shubhpuja makes no representations / warranties of any kind expressed or implied with respect to occurrence of any event and predictions.  The company may, in its sole discretion, change, modify, suspend, make improvements to or discontinue any aspect/service without prior notice. Please note that Shubhpuja does not take responsibility for any work undertaken by the Acharya/astrologer/pandits and their opinions / predictions and Shubhpuja or the Company disclaims their responsibility to the fullest extent as per the applicable laws. All predictions are based on study and observations of the astrologer and their independent opinion. Shubhpuja holds the right to not take any particular order from the customer due to any external/internal circumstances known to Shubhpuja.
Source: WHO for Diabetes Statistics