The embodiment of chastity and unalloyed devotion-Tulasi and her Shaligrama Vivaha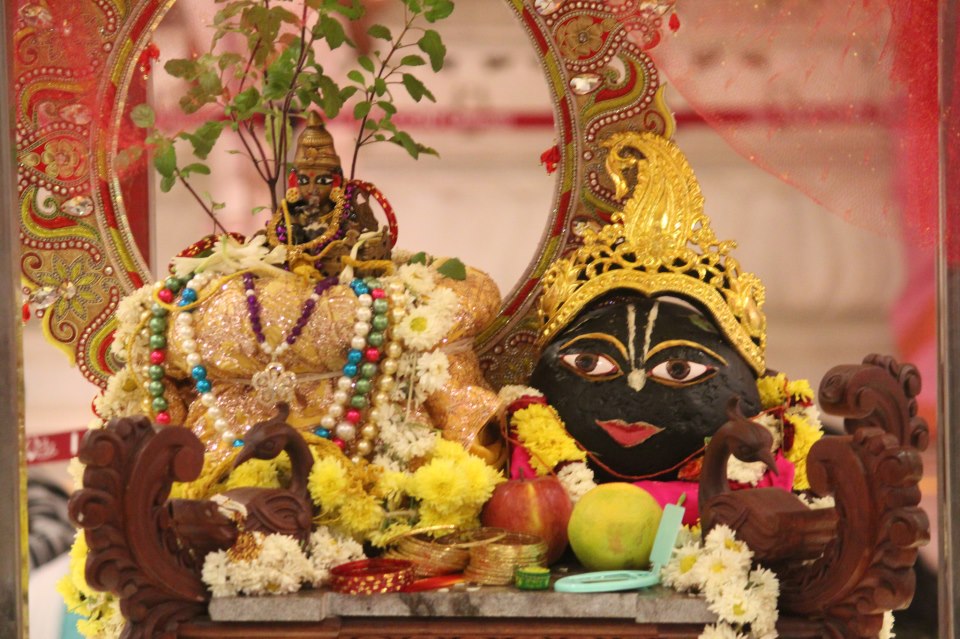 Introduction
Tulasi or Vrinda or Tulsi is the hallowed name of Srimati Vrinda Devi who is the worshippable plant which can be seen flourishing in any home who are following Sanatan Dharma or Hinduism. One can always find her growing nicely in the courtyards of the houses.
Shaligrama is a sanctified stone form of Personality of Godhead Sri Krishna who appeared as a form for his devotees. This form of lord is found in the Gandaki river which flows in the Indo Nepal border. One who takes a dip in the holy river can find these Shaligrama shila in their hands.
This Vivaha ceremony is performed in Bheeshma panchaka of the month of Kartik. Out of the five days, it can be celebrated on any of them which is decided as per the auspicious constellations.
The legend behind Tulasi-Shaligrama Vivaha
As per Padma Purana, Tulasi devi was known as Vrinda in her past life. He was the utmost chaste wife of Jalandhar. Jalandhar was born out of Lord Shiva's anger. Lord Shiva, who once became extremely angry opened his third eye and let his krodhhagni come out which was then dumped into ocean.
From this, Jalandhar was born who tried to claim his right over the 14 gems which came out of ocean during the churning. He was the husband of Vrinda, who was devotedly dedicated to service of her husband. She had a blessing indicating that her chastity was the cause of her husband being invincible.
In order to restore the peace in the celestial planets, Lord vishnu came is disguise of her husband to supposedly dismantle her purity. When she came to know that it was Lord Vishnu in disguise, she was angry at him and therefore cursed him to become a black stone since he performed an act done by stone hearted people.
And Lord Vishnu gave her the blessing that she would be his greatest devotee and she would take her next life in the form of tree worshippable by everyone. No offering to the lord shall be complete without her presence.
Procedure of marriage
Shri Vasishthaji said that what I have heard in ancient times from Lord Brahma about the marriage of Tulasi I will now describe according to what is written in the Narada-pancaratra. First one should plant Tulasi either in the house or the forest, and after three years one may perform her marriage. The auspicious times when one may perform the marriage of Shalagrama and Tulasi are described as follows. When the sun is moving in the north, Jupiter and Venus are rising, in the month of Kartika, from the Ekadashi to the full moon in the month of Magha, and when constellations that are auspicious for marriage appear, especially the full moon day. – First one should arrange a place for sacrifice (yajna-kunda) under a canopy (mandapa). Then after performing shanti-vidhana, one should install sixteen goddesses, and do the shraddha ceremony for his female maternal ancestors.
One should call four brahmanas learned in the Veda, and appoint one to be the Brahma, one to be the acarya, one to be the rishi, and one to be the priest. One should establish an auspicious waterpot (mangala-ghat) under that mandapa according to the Vaishnava rituals. Then one should establish an attractive shalagrama-shila (Lakshmi-Narayana). After that one should perform home sacrifice (griha-yajna), worship the sixteen goddesses, and do the shraddha ceremony. – When it is dusk one should install a golden Deity of Narayana and a silver murti of Tulasi according to one's means. With vasa-shanta mantra two cloths should be tied together, with yadavandha mantra the marriage bracelets (kangana) should be tied on the wrists, and with ko' dat mantra the marriage should be consecrated. Then the host along with the acarya, rishi, and others should make nine offerings in the yajna-kunda. After these marriage rites have been done, the wise gurudeva should offer sacrifice according to the Vaishnava rituals chanting, "Om namo bhagavate keshavaya namah svaha." – The host with his wife, friends, and relatives should then do parikrama of Tulasi four times with shalagrama-shila. Everyone should then recite the following prayers in front of the yajna-kunda: shatkumbha-sukta, pavamani-sukta, shakti-kadhyaya, nava-sukta, jiva-sukta, and vaishava-samhita.
After this the ladies should blow conch and other similar instruments, sing auspicious songs, and recite mangalacarana. Following this the final sacrifice should be done (purnahuti) and then abhisheka. An ox is to be given to the Brahma, a cow, cloth, and bed to the acarya, and cloth to the rishi. Dakshina should be given to all. – In this way installing Tulasi Devi one should begin her regular worship along with Lord Vishnu. Whoever sees the marriage of Tulasi Devi will have all of the accumulated sins of his life removed. Whoever with devotion plants Tulasi, collects her leaves, or installs her along with Vishnu will achieve liberation, the abode of the Lord, all varieties of enjoyment, and will enjoy along with Shri Hari.
Celebrate this marriage with www.shubhpuja.com.